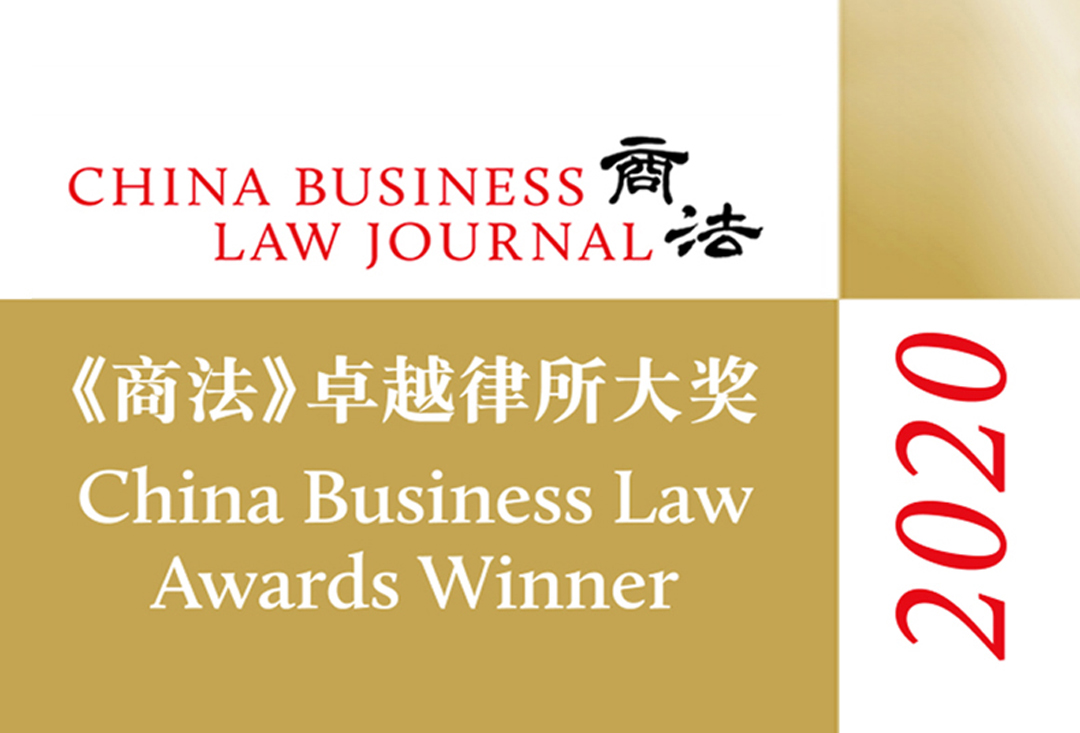 On April 8, the renowned Asian legal magazine China Business Law Journal ("CBLJ") announced the winners of 2020 China Business Law Awards. ZHH, with its outstanding overall strength in Western China, has been recognized as the "Best Overall Law Firm (Western China)". Besides, thanks to its exceptional performance in international trade and insurance & reinsurance, ZHH has won the "China Business Law Award" again in these two practice areas. This is the fourth time that ZHH has won the "China Business Law Award" in multiple practice areas since the year of 2015, 2016 and 2019.
For a long time, with a thorough understanding of the customers' goals, expectations and business philosophy, and the ability to handle complex legal problems in an innovative way, ZHH is in a leading position in practice areas including banking, insurance, international trade, IPOs, company formation and reformation, M&A and restructuring, construction and real estate, foreign investment, project financing, venture capital fund, Internet and IPR. ZHH has served many clients in major cities in Western China, such as Chongqing and Chengdu, including Chongqing Local Financial Supervision and Administration Bureau, Chongqing International Trust, Sichuan YDL Electric Power, Chengdu Jiaozi Financial Holding Group. In June 2019, Cheng Dichang, director of Chongqing Jiwei Law Firm, led most of his law firm's lawyers to ZHH to set up ZHH Liangjiang New Area Office.
In the area of international trade, ZHH's team is not only familiar with the trade-related legal rules and financing accounting systems of all major international organizations and major trading powers, but also has formed a standardized and systematic legal knowledge system through long-term connection, communication and cooperation with domestic and overseas competent authorities, cooperative institutions and lawyers in the aforesaid areas, which enables it to provide trade-related legal services under WTO system in a more efficient and professional way for clients both in litigation and non-litigation sectors. For many years, ZHH's international trade team has handled a lot of influential international trade cases. For example, it provided full legal services to Chongqing Airlines for 7 A320NEO aircraft leased from BOC Aviation; represented Chongqing Kangmeng Trade Co., Ltd. in its international trade dispute arbitration with Swiss F.W. Hempel Intermetaux S.A. at SHIAC; provided full legal services for international trade disputes between a Korean electronic product manufacturer and a Zhengzhou company; and represented a Sichuan company in a technology service contract dispute case for its project in India, etc.
In the area of insurance, ZHH represented various insurance companies in 394 cases (excluding mediation and settlement cases) in 2019. It has served a number of insurance companies, such as PICC Property and Casualty, ZhongAn Online P&C Insurance, Tk.cn Insurance, and Tianan Property Insurance. Its insurance team is composed of over 30 lawyers who are familiar with compliance and internal control, insurance supervision and administration and expertized on various life insurance products, property insurance products and reinsurance products. They closely follow industry characteristics and trends, participate in legal services for insurance fund application, insurance brokerage, and represent in claims, recovery affairs and insurance contract disputes, etc. For many years, the firm has been committed to providing services for domestic and overseas insurance companies, insurance intermediaries, insurance brokers and insurance consumers. Just as a client from an insurance company said, "With the experienced and relatively fixed team of lawyers, ZHH not only guarantees the quality of its services in handling cases, but also achieves good results in minimizing losses, and has won good comments from courts, parties, companies and other parties.", "For special hard cases, we prefer to be represented by ZHH, as it has a reasonably-structured team and its lawyers are familiar with the internal processes of insurance companies and requirements for compliance supervision, etc. and they are highly professional.", "The most important thing is that the atmosphere in ZHH's team is harmonious and positive and the members cooperate well with each other."
China Business Law Journal is published by the Hong-Kong based international professional publications publisher Vantage Asia Publishing Limited. Its editorial committee is composed of many outstanding business leaders, corporate counsel, lawyers and academics and aims to provide a high-end business and legal information platform for global company managers. The China Business Law Awards is based on nominations and recommendations from law firms, in-house lawyers, senior managers and legal professionals. In determining the winners, the nominations are considered carefully in combination with each firm's landmark deals, cases and the in-house lawyers' analysis of the service quality, professionalism and innovation capacity and other comprehensive factors of the firms, and the landmark deals, client feedback, revenue growth, new lawyers and other notable achievements in general or specialized sectors have also been evaluated. The award is widely recognized by international business, legal and financial professionals.