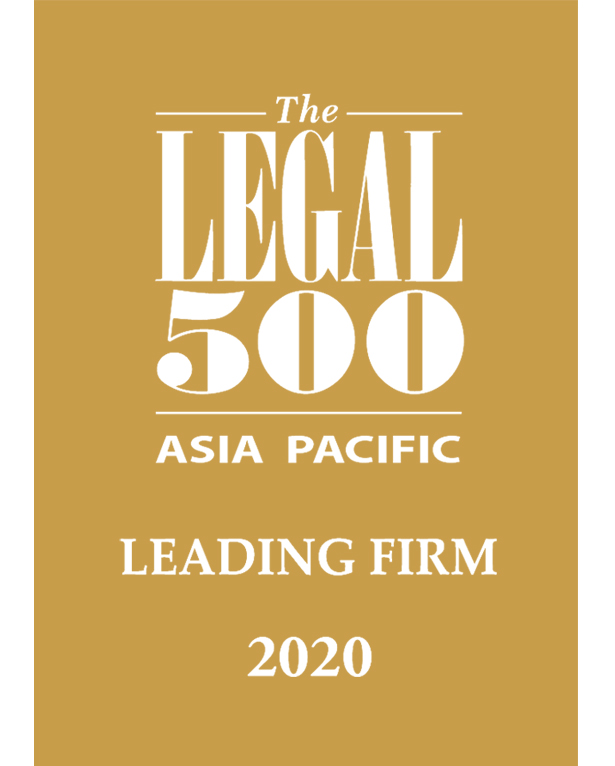 On January 16, 2020, Legal 500, an internationally recognized legal market rating agency, published its 2020 Asia Pacific edition of selected leading law firms and lawyers. ZHH was awarded Asia Pacific Leading Law Firm of the Year 2020 and YUAN Xiaobin, Chairman of the Board was awarded as the 2020 Leading Individual. ZHH has won the title of Asia Pacific Leading Law Firm of the Year for many times, and Yuan Xiaobin has also earned his title of Leading Individual for several times, which not only demonstrates ZHH's influence in the legal profession but also fully recognizes ZHH's continuous promotion of specialization, scale and internationalization.
Founded in 1988, Legal 500 is globally recognized as one of the leading independent legal market rating guide in the world. Legal 500 conducts the ranking annually. It assesses the strengths and strategies of law firms in over 90 countries and 150 areas, covering Europe, the Middle East, Asia Pacific, Americas, and the Caribbean, etc. Researchers of Legal 500 contact thousands of clients of law firms every year. Their rankings are based on feedback from 300,000 clients worldwide, submissions from law firms and interviews with legal directors, market observation of the research team, etc. The law firms and lawyers in each practice area recommended by the guide are all based on the interviews with clients, opinions of thousands of lawyers in competitive law firms as well as relevant information of transactions and cases in which the law firms engaged.
Since its establishment in 1997, ZHH has been committed to providing first-class commercial legal services. After 22 years of steady development, as the first western law firm to adopt the corporate system, ZHH has become an integrated law firm which provides comprehensive legal services and takes the lead in many legal areas, and ZHH will continue to improve its professional services. Currently, ZHH has offices in Chongqing, Shanghai, Beijing, Chengdu, Guiyang, Hong Kong, New York and other places. ZHH has over 70 partners, more than 280 lawyers and professionals, 11% of which have a doctorate degree, 23% graduated from overseas prestigious universities, and 78% have a master degree. ZHH will continue to promote the development of specialization, scale and internationalization, improve the internal operation mechanism and law firm culture, and pay attention to foreign exchanges and further education. Being extensively praised and trusted by clients from home and abroad, ZHH boasts a leading position and advantages in corporate/commercial, M&A and listing, bankruptcy (reorganization) and liquidation, foreign direct investment and overseas investment, banking and finance and other business fields.